The Eyre Bird Observatory, Western Australia
Based in the old Eyre Telegraph Station, in the original limestone building which has been restored.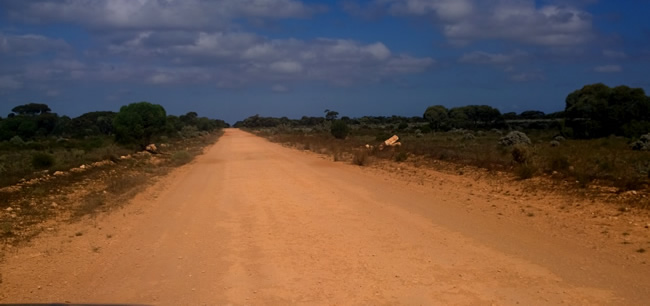 About 15 kilometres east of Cocklebiddy, on the Eyre Highway, is the turnoff to the Eyre Bird Observatory.
The first part of the track is OK and quite suitable for all vehicles, but after a few kilometers is becomes rough. The last dozen kilometres is very rough and only suitable for 4wd vehicles.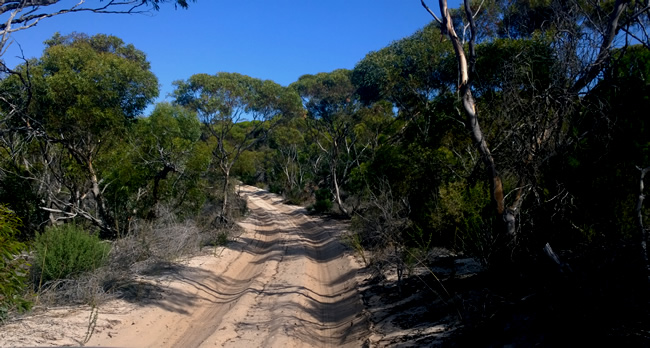 About 12 kilometres from the Observatory there is a microwave tower with a car park. That is as far as two wheel drive vehicles can go.
After that there is a steep descent down the escarpment, followed by 10 kilometres of deep soft sand track. A four wheel drive vehicle with sufficient ground clearance should have no difficulty coping with it, providing they have let down their tyres sufficiently. We let down the tyres to 20 psi on the Land Rover and had no problems at all. Many parts of the track are much deeper sand than this, but we didn't want to stop there for photos! You have to keep an eye out for vehicles coming the other way.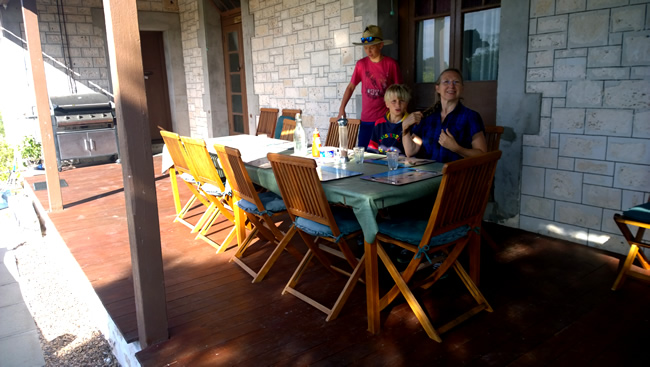 Accommodation is available at the Observatory, and the very reasonable tariff includes food. We arrived at lunch time and lunch was served on the verandah.
The Observatory is run by volunteers and one way they raise funds to keep it running is to provide accommodation for visitors. You get to stay in the historic limestone Telegraph Station, which dates from 1877.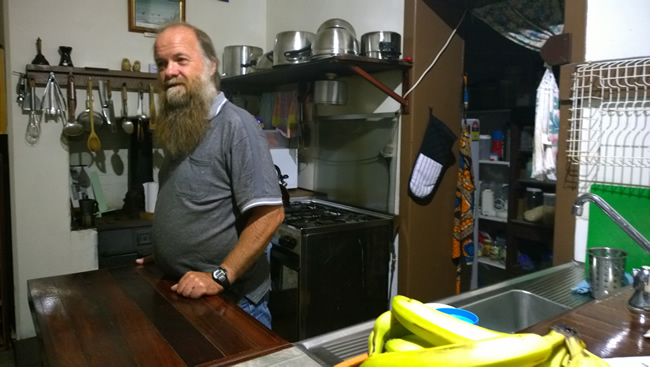 The Observatory is run by volunteers who live on site for three month stints.
Gavin and his wife's second term there was nearly completed and they would be returning home to South Australia in a few weeks. They had visited a few years ago and had liked it so much they decided to volunteer when they were able, so they could 'give something back'. They were great hosts and great company.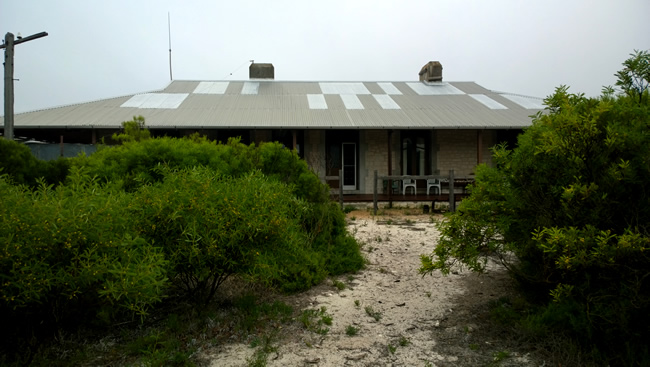 The Telegraph station was abandoned in 1927 and the rights to salvage the timber and fittings sold to a local farmer. He removed much of the internal fittings and timber, but the roof was too much of a challenge for him, so it was left intact. This protected the building so that when in 1976 the Royal Australasian Ornithologists Union began negotiating with the Post Office Historical Society to restore the building and use it as both a museum and a bird observatory it was still in restorable condition.
The site was chosen for a bird observatory because the fine old building is eminently suitable, it is located in the middle of the 625 000 hectare Nuytsland Nature Reserve. It is possible to study some of the ocean going sub Antarctic birds as well as the native birds of the mallee.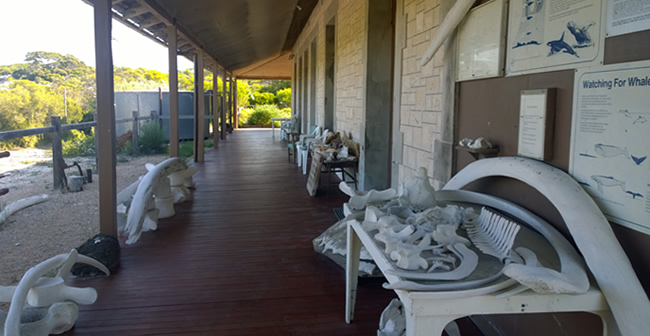 There are several rooms dedicated to museum collections at the Observatory. More durable items are on display on the 'front' verandah. there are collections of whale and other bones, a complete turtle skeleton, telegraph line items, etc. More fragile items are in a museum room in the first door on the right, and more still in the central passageway in the second door on the right.
One of the two main rainwater tanks can be seen at the end of the verandah. There is also an underground cistern which is quite large, but has a persistent leak which has defied attempts to fix it. These rainwater tanks were the first things to be repaired when restoration began so that people could live there.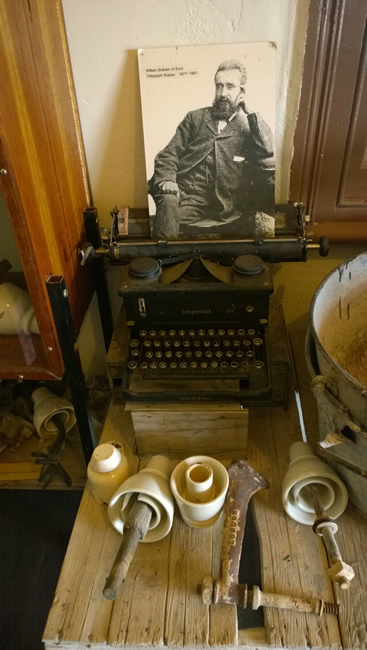 William Graham, the first station master at Eyre was very hard on his 11 children, but he was also hard on himself. He once rode a bicycle 320 kilometres along the telegraph track from Israelite bay to Eyre. He would regularly swim several kilometres from supply boats back to shore through shark infested waters.
He was hard on his children. One of them, Jessica Burnett, said many years later 'In our house there were no girls. There were no children. Only workers.'.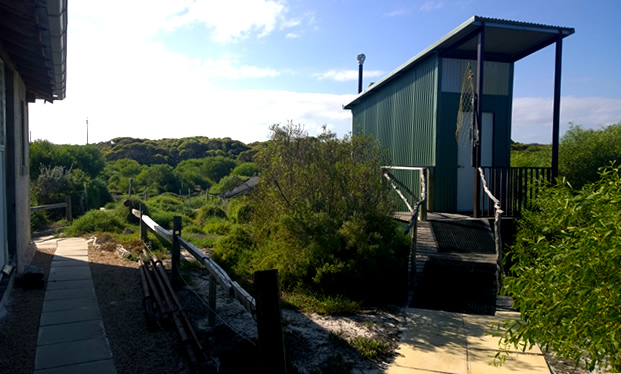 Because there are few people around, and because of the occupancy warning system in place, which you can see on the left post in front of the loo, you can safely leave the door open and have a peaceful view. Beats looking at the back of the door!
The loo itself is a composting eco friendly loo that uses no water.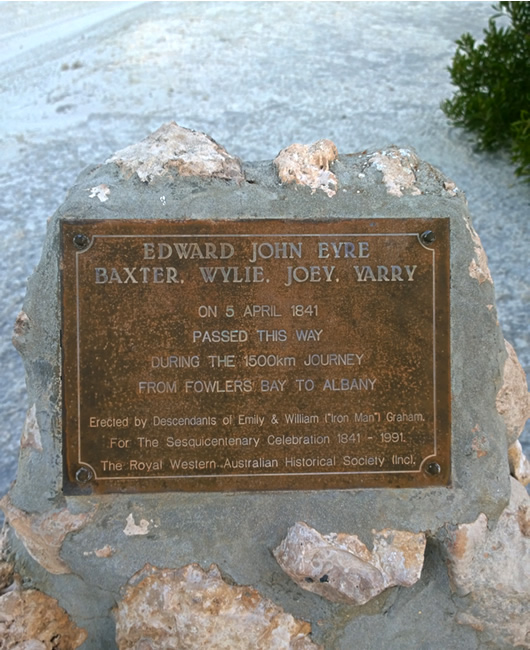 On the way to the beach, along a sand track, is this memorial to Edward John Eyre and his companions. He was only twenty six years old when he was here in 1841, on an arduous 1500 km journey from Fowler's Bay in South Australia to Albany in Western Australia. He and one of his Aboriginal companions, Wylie, barely survived the journey. His companion Baxter had been murdered by the other two Aboriginals, Joey and Yarry.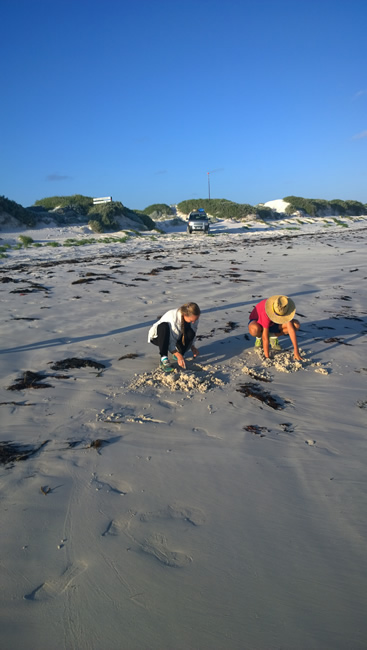 You don't have to share the beach with many people. It's a beautiful spot where you can relax and build sandcastles or go fishing or boating or walking. The access track is soft sand and is four wheel drive only. It is about 1 kilometre from the Observatory. 
This fishing boat fishes for crayfish and is normally moored off the beach. It is moored quite a way out because the gently shelving beach means it is shallow for quite a distance out.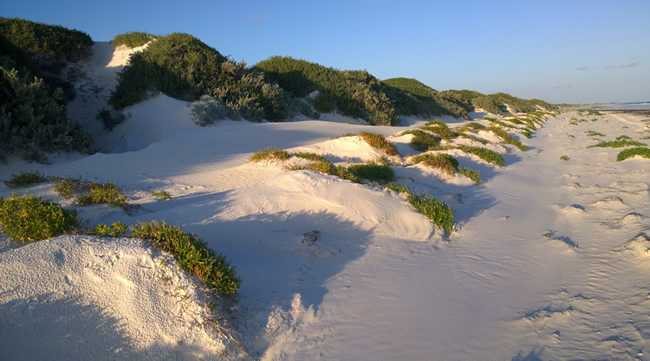 It's a really lovely spot, and you could walk for many miles without meeting anyone. The beach at Eyre in the late afternoon sun.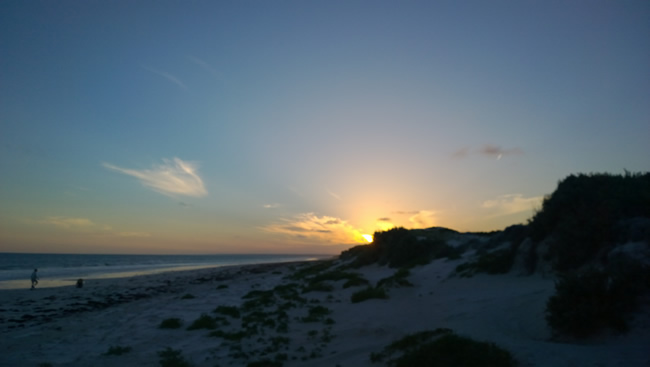 The sun setting behind the sand hill marks the end of a lovely day. It was Good Friday. As we sat there we remembered Jesus and his sacrifice and death. But we also remembered that Easter was coming! Death did not win.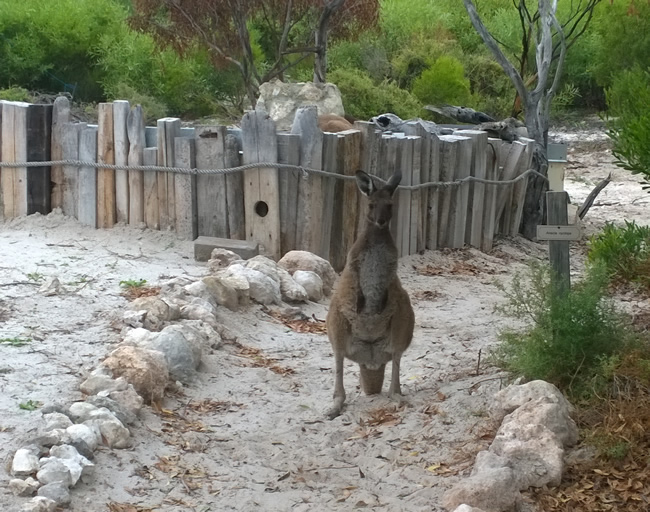 The kangaroo was very tame, approaching closely and inquisitively to the back of the house. There were a couple of others behind the fence.
Just to the right of the kangaroo is a bird bath that birds often come to visit. Birds were there in plenty, chirruping and chattering away. You could hear them, but they were more difficult to see. They are well camouflaged for their native environment in the mallee scrub.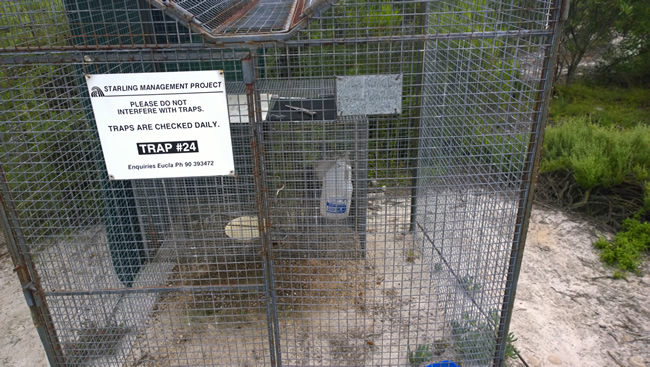 Not all birds are welcome in Western Australia! Starlings breed prolifically and are a real threat to agriculture. Common in the eastern states they are not present in Western Australia … yet!
The Eyre Bird Observatory is part of the Starling Management Program. This 'cage within a cage' is meant to encourage any starlings getting this far west to enter the outer cage. There are a couple of starlings in the inner cage. Their singing attracts any passing starlings and lures them into the outer cage. Once in they cannot get out. It works – from time to time a starling is caught in the outer cage.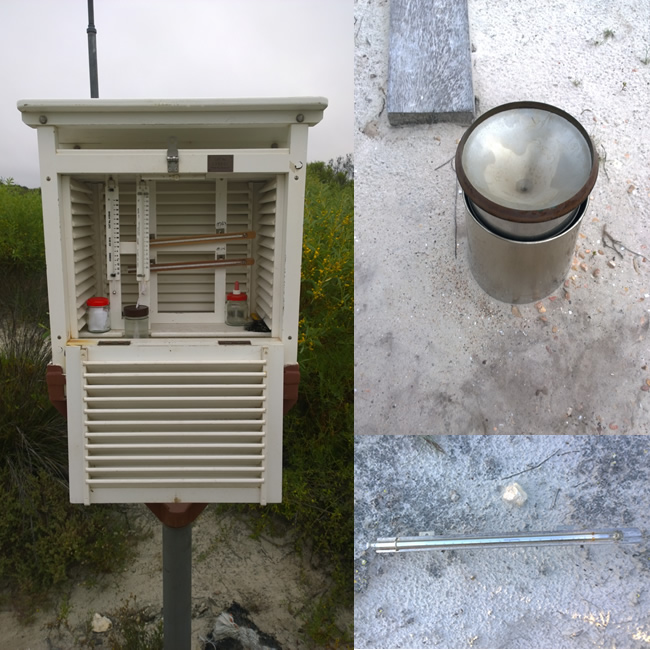 The weather bureau gets readings from many places in Australia, including the Eyre Bird Observatory. This has been happening for very many years.
This is the Stevenson's screen, inside which are thermometers measuring different temperatures such as the minimum and the maximum, and also other instruments for other readings. Outside this box there is also a rain gauge, a thermometer at ground level to measure ground temperature, and a wind direction indicator.
This page Copyright © ThisisAustralia.au


All the labels you use every day, with excellent service! EveryLabels.com.au