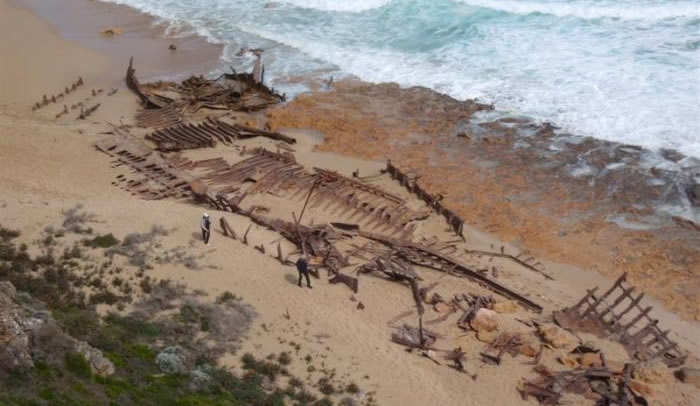 Known shipwrecks around the Yorke Peninsula coast. In chronological order.

Date
Ship's Name
How Lost
Location
1838
1838
1840
1845
1849
1849
1850
1850
1850
1851
1852
1854
1862
1865
1865
1865
1866
1867
1867
1872
1873
1873
1874
1875
1875
1875
1876
1876
1877
1877
1878
1879
1879
1880
1881
1881
1881
1882
1882
1884
1886
1888
1890
1892
1896
1898
1898
1898
1899
1901
1901
1902
1903
1903
1904
1905
1906
1907
1907
1908
1908
1909
1909
1911
1912
1912
1912
1913
1913
1913
1917
1917
1918
1918
1919
1920
1920
1920
1921
1921
1924
1925
1926
1927
1928
1929
1934
1937
1937
1937
1938
1939
1948
1962
1981
Dart (brig)
Parsee
Francis
Yare
Young Hebe
Sultana (barque)
Deslander
Panama
Jane Flaxman
Marion
Washington
Charles Carter
SS Marion
SS Kangaroo
San Mignel
Blanche
Omero
Agneta
Zanoni
SS Black Diamond
Kangaroo
Iron King
Fairchild
SS Royal Shepherd
Kadina
Rose
Lightning
Agnes
Rambler
Tiparra
Young St George
Ismyr
Garonne
Inchmanock
SS Chinborago
Experiment
Ark
Parara
Young Lion
Chittoor
Antares
Ashmore
Ruby
Enterprise
Capella
Candida
Excelsior
Ariel
Young Surveyor
Glenpark
Gwydir
Osprey
Sixtus
Eliza
Ethel.
Cockermouth
New Arrival
Willyama
Aagot
Sir Wilfred Lawson
Triumph
Clan Ranald
Dianella
Elizabeth Ann
Songvaar
Australian SA
Chateau Briand
Jean Bart
Albatross
General de Sonie
Success
Kona
SS Investigator
Maldon Lewis
SS Paneora
Boieldieu
Notre Dame d'Arvor
SS Ferret
Eugene Scheider
Lillie May.
Portonian
Victor
Yulta
MacIntyre
Ariel
Eclipse
Nelcebee & Gerard
Heather Belle
Rapid
Albatross
Janet
Robbie Burns
Tarna
Kooliga
Yatala Reef (Prawn Boat)
Wrecked
Wrecked
Wrecked
Wrecked
Wrecked.
Wrecked
Wrecked
Wrecked
Wrecked
Wrecked
Stranded
Stranded
Wrecked
Stranded
Wrecked
Wrecked
Foundered
Wrecked
Wrecked
Wrecked
Wrecked
Wrecked
Vanished
Stranded
Stranded
Capsized
Stranded
Beached
Wrecked
Foundered
Wrecked
Grounded
Wrecked
Wrecked
Stranded
Wrecked
Wrecked
Wrecked
Wrecked
Stranded
Wrecked
Stranded
Wrecked
Foundered
Grounded
Beached
Beached
Stranded
Foundered
Foundered
Foundered
Left Edithburgh fully
Stranded
Wrecked
Wrecked
Stranded
Stranded
Stranded
Stranded
Stranded.
Stranded
Foundered
Foundered
Stranded
Foundered
Foundered
Stranded
Stranded
Stranded
Stranded
Stranded
Wrecked
Wrecked
Foundered
Wrecked
Grounded
Grounded
Beached
Stranded
Foundered
Burnt
Stranded
Stranded
Stranded
Foundered
Stranded
Collided
Burnt
Wrecked
Wrecked.
Wrecked
Vanished
Vanished
Stranded
Hit rock & sank
Troubridge Shoal
Troubridge Shoal
Neptune Island
Troubridge Shoal
Troubridge Shoal
Troubridge Shoal
Troubridge Shoal
Troubridge Shoal
St Vincent Gulf
Marion Reef
Troubridge Shoal
Troubridge Shoal
Marion Bay
Near Wallaroo
Tiparra Reef
Wallaroo
St Vincent Gulf
Sultana Point
Off Ardrossan
Walrus Rock, Spencer Gulf
Cape Elizabeth
Troubridge Shoal
Pt Adelaide to Wallaroo
Troubridge Shoal
Wallaroo
St Vincent Gulf
Troubridge Shoal
Wardang Island
Wool Bay
St Vincent Gulf
Althorpe Island
Reef Head – then vanished
Tapley Shoal
Foul Bay
Marion Reef.
Althorpe Island
Dangerous Reef
Spencer Gulf
Cape Elizabeth
Marion Reef
Marion Reef
Marion Reef
St Vincent Gulf
Near Althorpe Island
Wallaroo
Wardang Island
Coobowie Spit
Wedge Island
St Vincent Gulf
Wedge Island
St Vincent Gulf
laden, then vanished
Cockle Spit, Spencer Gulf
Point Riley
Reef Head
Port Victoria
Wallaroo
Rhino Head
Wardang Island
Port Moorowie
St Vincent Gulf
Off Troubridge Hill
Moonta Bay
Port Minlacowie
Off Wardang Island
Wardang Island
Sturt Bay
Wardang Island
Port Victoria
Port Victoria
Troubridge Shoal
Port Morowie
Wardang Island
Stenhouse Bay
Althorpe Island
Corny Point
Wardang Island
Near Reef Head
Port Victoria
Cape Elizabeth
Troubridge Shoal
Balgowan
Point Turton
Wardang Island
Althorpe Island
Near Reef Head
Near Port Victoria
Wallaroo
Althorpe Island
Wedge Island
Wattle Bay
near Corny Point
Southern tip of Peninsula
Stenhouse Bay
near Mozzie Flat
© ThisisAustralia.com.au

All the labels you use every day, with excellent service! EveryLabels.com.au
Although many of our contributors use professional camera equipment such as the Nikon Coolpix 1000, at ThisisAustralia we usually use our mobile phone cameras. A Samsung Galaxy Note 10 +, which has been great, and we will continue to use. We have also just purchased a Samsung S21 Ultra. This has been described as an 'insanely brilliant camera with a phone attached'. So we are expecting some really good quality pics! Some of our contributors have also used the iPhone 13 with good success.